Please Note: A very large percentage of the following material comes from research done by Bill Kiley.
BEFORE APARTMENT BUILDINGS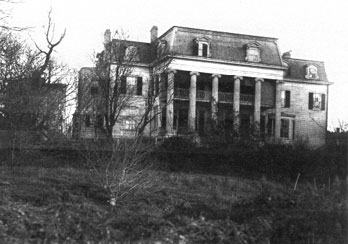 Furniss Mansion
The lot on which the Schuyler Arms stands was in the mid-eighteenth century within a 300-acre tract owned by Charles Ward Apthorpe. Apthorpe was born in Boston and accumulated wealth in shipping, land speculation, and brokering the purchase and sale of military supplies. He built a mansion near what is now 81st St. and Columbus Avenue. During the Revolution, American and British commanders used Apthorpe's home as a garrison as their respective military fortunes changed during the battle for Manhattan.
One hundred years earlier, the Dutch controlled the land encompassing our neighborhood. By the 1680's a settler, Theunis Idens van Huyse, had built a homestead near here. The Dutch called the area Bloemendaal ("valley of flowers"). The name was later anglicized to Bloomingdale after the British took control of Manhattan.
In 1764 Apthorpe sold a large parcel of his land to Jacob Stryker, a magistrate in the Court of New Amsterdam. Bounded to the north and south by what is now 99th and 81st streets, and to the east and west by Central Park West and the Hudson River, the property became known as Striker's Bay. Riverside Drive's 96th Street viaduct passes over what had once been a cove formed by the Hudson's waters along the Striker property's shore.
During the 1850's the Striker property was the subject of a partition suit among Jacob's descendents, including John and George Striker and their families. The suit was settled in the State Supreme Court in 1856. Immediately after the settlement, John Striker sold a section of the property that included the Schuyler Arms lots to William P. Furniss. Furniss was a lawyer with a talent for business and an interest in poetry. He and his family lived on Bond Street in lower Manhattan and spent their summers in a mansion constructed along Riverside Drive near 100th Street. The mansion's grounds occupied the entire block bounded by 99th and 100th Streets, and Riverside Drive and West End Avenue. In 1874 Furniss published, at his own expense, a volume of poetry and essays, which included the poem "Mon Repos", an ode to the Bloomingdale area in which he lived.
In 1880, after the deaths of Furniss and his wife, their daughter Margaret sold the Schuyler Arms lots to John N. A. Griswold of Newport, Rhode Island. In 1899 Griswold sold the lots, which had remained undeveloped during his ownership. But in 1899, he sold them to developer William H. Beard, who, in 1901, hired the architect H. Alban Reeves to design what is now the co-op's south building.
In the meantime, the Furniss mansion had become an artist's colony of sorts, according to Peter Salwen in his book The Upper West Side Story. Salwen states that Gertrude Stein lived in the Furniss house from February to late spring 1903 after returning to the U. S. from an extended stay in London. During this time, while in New York, Stein wrote her first novel, Q.E.D., which was published posthumously. Perhaps Ms. Stein's legendary wanderlust and curiosity would have led her to walk by the Schuyler Arms, then under construction one block south of the Furniss mansion. The Furniss house was torn down in 1904, shortly after Stein moved to Paris, where she would reside until her death in 1946.
THE BUILDING PERIOD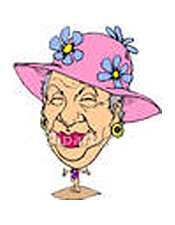 Magdalen C. Schuyler
December 1902
W.H. Beard obtained a mortgage from Magdalen C. Schuyler of $22,500 for West 98th lots 10-14 (our South Building)
Other Magdalen C. Schulyer real estate deals:
233 & 235 West 20th Street $11,000 Wednesday May 28th 1904
136 Beekman St $30,000 May 17th 1922
Our three Buildings were built as follows:
305 West 98th H. Alban Reeves Architect (our current South Building)
Plans filed July 25, 1901, Construction Jan 16th 1902 to April 23rd 1904
Estimated cost listed in construction plans was $243,000
304 West 99th M.V.B. Ferdon Architect (half of our current North Building)
Plans filed Aug 3, 1899, Construction Oct 18 1899 to Sept 28th 1901
Estimated cost listed in construction plans was $85,000
306 West 99th Henri Fouchaux-Architect (the other half of our current North Building)
Plans filed Aug 22, 1900, Construction Sept 14th 1900 to Sept 30 1902
Estimated cost listed in construction plans was $100,000
ORIGINAL RESIDENTS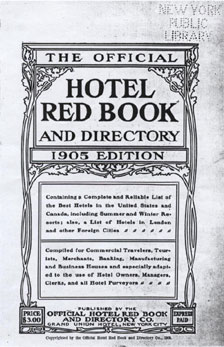 An advertisement for the Schuyler Arms Apartment Hotel appeared in the 1905 edition of the Official Hotel Red Book and Directory. The Red Book title page and the advertisement are reproduced here.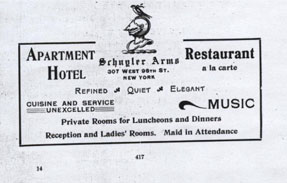 In May 1904 it was reported in The Hotel Register, a trade magazine, that nearly 100 apartment hotels had been constructed in Manhattan during the preceding eighteen months. The recently completed Schuyler Arms was likely counted among them. There is some evidence, however, that William Beard, the owner of the Schuyler Arms, may have originally intended his building to consist of rental apartments. In November 1903, several months prior to the building's completion, Beard leased a six-room apartment located in the southeast corner of the third floor to Edward J. Gavegan, an attorney whose law office was in the Financial District. Gavegan agreed to a two-year lease at $1200 per year. The 1904-1905 edition of the New York City Directory lists Gavegan as residing at 307 West 98th St. (The building's address was #307 in the early part of the century).
The lease agreement also indicates that some of the Schuyler Arms' original apartment layouts were spacious. But larger units like the one occupied by Gavegan did not last. Over the next twenty years, the apartments were subdivided. It was noted in a February 1925 issue of the National Hotel Review that the Schuyler Arms consisted of 71 apartments of two, three and four rooms.
Our lessee, Gavegan, proved to be an interesting figure in his own right. A graduate of Yale Law School, he was, according to his New York Times obituary, "a legal representative of many labor unions, especially among the building trades". Gavegan was a member of Theodore Roosevelt's White House Labor Conference and subsequently in 1913 a justice of the Supreme Court of New York - First Judicial District comprising Manhattan and the Bronx, a position he held for more than 20 years. According to the obituary, Gavegan's initial nomination for the judiciary in 1909 was said to be the result of a friendship formed with Theodore Roosevelt during a miner's strike in which Gavegan served as counsel to the miners.
1 year later 1905 CENSUS
The history of the Schuyler Arms is more than just a bricks and mortar story. We can also acquire interesting perspectives on our building's history from the personal histories of individuals who have dwelled here. For instance, did a veteran of the Civil War ever reside at the Schuyler Arms. This is certainly not an implausible speculation. A person who was 18 years old at the beginning of the Civil War in 1861 would have been 61 years old at the time of our building's completion in 1904. With this consideration in mind, the census records for the Schuyler Arms were examined to find a suitable candidate - a person old enough to have possibly served during the Civil War. The name of anyone satisfying the age constraint could then be checked against military records maintained by the National Archives to verify the existence of a Civil War service record.
A New York State population census was conducted in June 1905. The Schuyler Arms Hotel, then in operation for just one year, was included in this census. According to the census information collected, the eldest resident of the hotel was George W. Yates, age 64. Yates lived at the Schuyler Arms with his wife Cornelia, age 53. Of the seventy-three guests and 13 employees counted at the Schuyler Arms in 1905, Yates was the only person old enough to have possibly served during the Civil War.
The census information was checked against Civil War service and pension application records. The Index to Compiled Service Records of Volunteer Union Soldiers who Served in Organizations from the State of New York cites George W. Yates as having served as a Sergeant and a 1st Lieutenant in Company D of the 90th NY Infantry. According to Civil War military service and pension documentation, obtained from the National Archives and Records Administration, Yates was born on April 23, 1841 in New York City and served as a Union Army Volunteer from April 1861 through July 1865. At the battle of Cedar Run, Virginia on October 19, 1864, Yates was, according to his commanding officer, "...struck with a musket ball from the Rebels, in the left leg below the knee, fracturing the tibia and rendering him unfit for duty". After a period of hospitalization, he returned to duty on February 16, 1865 and was honorably discharged for physical disability in July 1865 with the rank of 1st Lieutenant.
Following the war, Yates applied for and received a Union Army invalid pension for his disability. He married, settled in Bayonne, NJ and raised five children. After the death of his first wife, he married Cornelia and moved to Schuyler Arms in May 1905. Yates' file also includes an application in 1907 for a pension that had recently been granted by an Act of Congress to eligible veterans of the Civil War and the War with Mexico. New York City directories from 1906 to 1908 list Yates as residing at 307 W. 98th Street. (The building's address was #307 in the early part of the century). His Schuyler Arms address is also recorded in his pension documentation. The city directory lists his occupation during this period as a Chief Clerk at the US Sub treasury, 28 Wall Street. The US Sub treasury was located in the building that is now known as the Federal Hall National Memorial where a statue of George Washington presides over Wall Street. Like some of us today, most likely Yates found it convenient to take the IRT subway line - which started operating in 1904 - to his job in the Financial District. Yates died on December 27, 1908 at the age of 67 while still a resident of the Schuyler Arms Hotel. After his death, his wife Cornelia applied as a veteran's widow for his accrued military pension.
What interesting historical perspective on our building is gained by this inquiry? Whenever you walk into the Schuyler Arms courtyard, you experience much the same architectural space as did George Yates, a Civil War veteran born 160 years ago into a world far different and removed from our own. The Schuyler Arms spans both worlds and a time prior to its own bricks and mortar existence by virtue of its intersection with the lives of those who have passed through its courtyard.
Schuyler Arms Tenant Corporation (we become a CO-OP)
Christopher Goldsmith Incorporator April 2, 1981
Filed with the State of NY April 10, 1981 $50 filing fee, $10 tax